English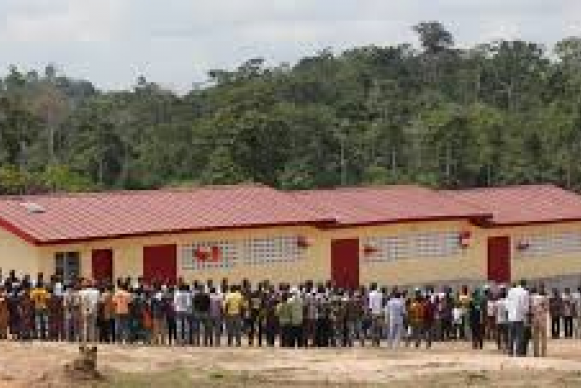 ABOKRO, Côte d'Ivoire, 18 September 2013 - The Hershey and Barry Callebaut Companies, responding to a major Community need in a cocoa growing area in western Côte d'Ivoire, today announced the completion of the Construction of a primary school as well as a community center and training for farmers. Located in Abokro, Gabiadji, in the `Bas-Sassandra' region in Côte d'Ivoire, the school and the community center will be fully operational for the 2013-14 school year. Some 150 children from 24 neighboring hamlets and villages are enrolled in the new school. The project is the result of a joint partnership between Hershey and Barry Callebaut.
Rural areas in Côte d'Ivoire suffer from lack of modern primary school buildings. The new school in Abokro meets a long-standing need for community development. Through the Hershey Learn to Grow program, the Abokro School has three furnished solar-powered classrooms, a solar powered well, a sickbay and a canteen offering subsidized meals. Accommodation for teachers and nurses is also provided. Barry Callebaut has already built a health center in Goh and is processing large volumes of cocoa at its nearby San Pedro plant.
Hershey Learn to Grow
The Hershey Learn to Grow program demonstrates Hershey's commitment to the cocoa communities. It intends to modernize cocoa farming to improve the living standard of farmers and their families.
Hershey Learn to Grow encompasses projects in Côte d'Ivoire, Ghana and Nigeria. In Côte d'Ivoire, this program will focus on education through the Abokro school project. The latter will also include farmers' training, in partnership with Barry Callebaut's Cocoa Horizons program.
"This modern school will make primary education much more accessible to the children of Abokro facing many challenges today," said Mike Wege, Hershey First Vice President and Chief Growth Officer. "Thanks to this innovative project, children will receive lunch, medical assistance and instruction from professional teachers. Our two companies are committed to giving back to the cocoa communities. The new school in Abokro is an excellent example of what we can do together. "
Abokro Primary School is a public school operated by the Ministry of Education. A health professional appointed by the Ministry of Health will be in charge of the infirmary. SACO, the local subsidiary of Barry Callebaut, will coordinate future activities with the school board on behalf of Barry Callebaut and Hershey. The latter includes representatives of teachers and members of the community, including delegates from the agricultural and cocoa cooperative of Glibeadji (COOPAGLI).
(COOPAGLI) The beneficiary of this project is one of the 20 members of the Union of Agricultural Cooperatives (UCAS) in Côte d'Ivoire. It has almost 900 farmers. The Union has been involved for several years in Barry Callebaut's Quality Partner Program, which aims to improve the income and living standards of cocoa farmers.
"The Abokro project is the result of a unique collaboration of Hershey, Barry Callebaut and COOPAGLI farmers. It illustrates our holistic approach to working with grower communities as part of our Cocoa Horizons program, "commented Paul De Petter, Vice President of Cocoa Africa, Barry Callebaut. "The program integrates, on the one hand, agricultural training that gives farmers the knowledge they need to increase crop yields and their incomes; On the other hand, it provides access to education, water and basic health care for the benefit of farmers, their families and the community at large.
Focusing on community
The Hershey Company has developed innovative sustainability programs in West Africa, including the CocoaLink mobile phone program to be launched next month in Côte d'Ivoire. These projects are part of its 21st Century Cocoa Sustainability Strategy, a comprehensive plan to improve the living standards of farmers and cocoa-dependent communities. Cocoa Horizons is Barry Callebaut's global initiative to ensure the sustainable production of cocoa by working with farmers to increase yields and quality by training the new generation of farmers by improving drinking water supply and Basic health care for them and their families. Both companies are convinced that the development of these programs is essential, both for the living standard of farmers' communities and for the growth of their businesses.
Barry Callebaut:
 With an annual turnover of around CHF 4.8 billion (EUR 4.0 billion / USD 5.2 billion) for the 2011/2012 financial year, Barry Callebaut, headquartered in Zurich, is the world leader in Manufacturers of premium cocoa and chocolate products - from the purchase and processing of cocoa beans to the production of the finest chocolate, which includes forages, decorations and chocolate ice cream. With the recently acquired Cocoa Ingredients Division of Petra Foods, Barry Callebaut has an estimated annual turnover of CHF 6 billion (EUR 4.9 billion / USD 6.4 billion), operates some 50 Production in the world, sells its products in more than 100 countries and employs a diverse and committed staff of more than 8,000 people. Barry Callebaut meets the needs of the entire food industry, from manufacturers to craftsmen and professional chocolate users, such as chocolate makers, confectioners, pastry chefs, hoteliers, restaurateurs and caterers. For the specific needs of these customers, the Group has two global brands, Callebaut® and Cacao Barry®.
The Hershey Company
The Hershey Company (NYSE: HSY), headquartered in Hershey, PA, is the largest producer of quality chocolate in North America and the world leader in chocolate and sugar confectionery. It operates around the world and employs approximately 14,000 people.
With a turnover of more than USD 6.6 billion, Hershey offers confectionery products under more than 80 brands, including Hershey's, Reese's, Hershey's Kisses, Hershey's Bliss, Hershey's Special Dark, Kit Kat, Twizzlers, Jolly Rancher and Ice Breakers. The Group is increasing its presence in key international markets, such as China, Mexico and Brazil, while continuing to strengthen its competitive advantage in the United States and Canada.
For over 100 years, The Hershey Company has been a leader in creating a positive difference in the communities where its employees live, work and do business. Corporate Social Responsibility is an integral part of the Group's overall strategy. This includes objectives and priorities focused on equitable and ethical action in business, responsible stewardship of the environment, the creation of attractive jobs for employees and a positive influence on society and local communities. Established in 1909 by the founder of the Group, the Milton Hershey School funded by a trust administered by the Hershey Trust Company, provides quality education, housing and free medical care to socially and financially needy children. The students of this school are the direct beneficiaries of the success of the Hershey Company.